Our Results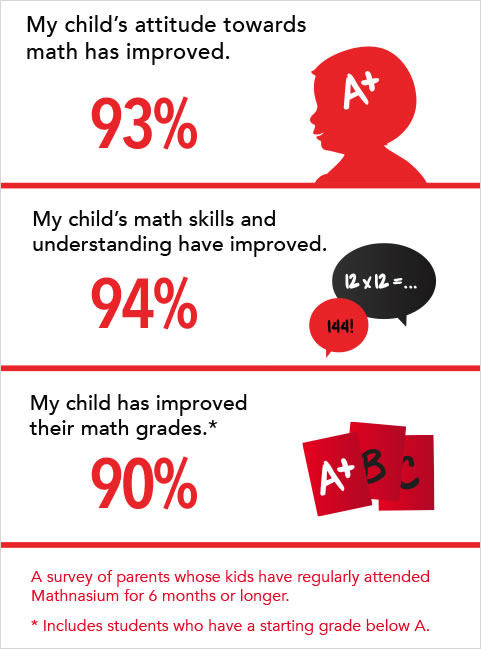 At Mathnasium, we help kids understand math by teaching the way that makes sense to them. Children who consistently attend sessions at our learning centres enjoy a transformative learning experience and make huge strides in the classroom.
Attitude: When math makes sense, kids develop a more positive attitude toward math.

Understanding: Mathnasium teaches for understanding, giving students the ability to succeed in any math environment. As Larry Martinek, Mathnasium's Chief Instructional Officer notes, "It's pretty easy to forget things you memorize and near impossible to forget things you understand."

School Progress: When kids learn math in a way that they truly understand, they achieve greater success in the classroom.
---
See what people say about Mathnasium
Erica Croft August 17, 2018

Mr. Ritsma is awesome. The learning environment is fun yet calming. My son likes it and feels more positive about math these days.
Rita Nesa August 16, 2018

Joe !! Excellent teacher. My children felt comfortable and homely when they were in mathnasium!!!
J.M. August 16, 2018
So far the experience has been good. Lots of math support and instructional time.
Filis Mahamed August 15, 2018
My daughter loves Mathnasium. She's so eagered to learn and became very confident in her math skills. Thanks Joe!
K.S. July 5, 2018
This was a great experience for my son. He did fine in math at school but not as well as he is capable of. He needed to build his confidence in his skills and also to learn to focus and read the questions properly to know what they were actually asking. The staff and the atmosphere made him feel comfortable to ask questions and not feel pressure. He was quite proud to show me what he had been working on when I came to pick him up. I think his time at mathnasium has definitely helped with confidence, we'll have to wait til school is back in to see how he transfers what he has learned. The only reason I don't rate mathnasium a 10 is because of the hours. Fridays and Saturdays are probably the best days for me to bring him because we aren't loaded down with other obligations but unfortunately they aren't open.
S.L.G. July 5, 2018
We have had a wonderful experience at mathnasium . Our daughters confidence improved greatly, as did her attitude toward math. Her grades even improved the first month!
Nicole Weber June 21, 2018
I am really impressed with the rapport that Joe, the owner, has with each kid. Once I get my son there, I never hear any complaints which is saying a lot. He is finally starting to work independently but I can see the staff are good about knowing to check in with him.
Kathy Bowman June 20, 2018
I already have referred a friend for the fall!
S.E. May 18, 2018
We like Waterloo mathnasium because the tutors are knowledgeable and patient. Try try different ways to explain until we understand. We feel at ease going and they make maths fun and easier.
Marie Marx May 17, 2018
My son is in grade three and needed some help with the basics. It has only been a few weeks but we can already see an improvement. Owen loves going to Mathnasium. He has a lot of fun and finds the practice rewarding. I think the one on one attention makes him feel special and supported. Joe is really great - he is very friendly and engaging with the kids. I love the flexibility of the drop in as well.
Rana Almohammad April 22, 2018
Hi, I have 3 Kids at mathnisum. They achieved good progress in math within less than 2 months. I really like the environment and the teaching methods. The staff is so friendly and professional. I really recommend for who ask about good program to help the kids in math.
ALERT
NOW OPEN for BOTH in-centre and live, web-based instruction!