Our Results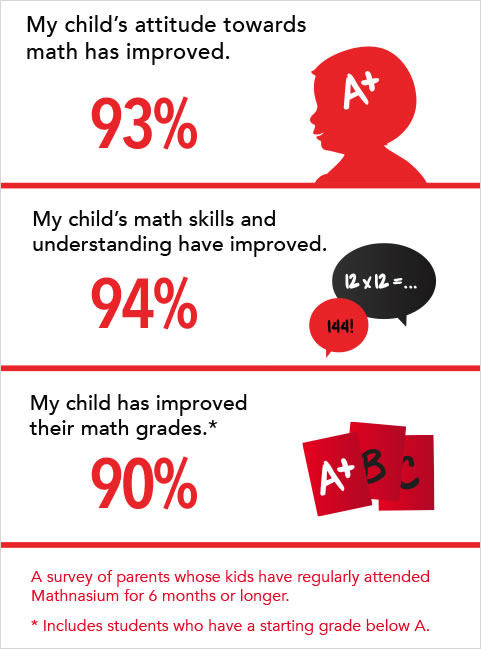 At Mathnasium, we help kids understand math by teaching the way that makes sense to them. Children who consistently attend sessions at our learning centres enjoy a transformative learning experience and make huge strides in the classroom.
Attitude: When math makes sense, kids develop a more positive attitude toward math.

Understanding: Mathnasium teaches for understanding, giving students the ability to succeed in any math environment. As Larry Martinek, Mathnasium's Chief Instructional Officer notes, "It's pretty easy to forget things you memorize and near impossible to forget things you understand."

School Progress: When kids learn math in a way that they truly understand, they achieve greater success in the classroom.
---
See what people say about Mathnasium
"Hannah is doing well with her math. What a difference! She doesn't complain about her homework. She often gets through her math homework without assistance from us. She seems so much more confident and her grades are good. Thank you so much for getting her to this point. The skills she gained while coming to Mathnasium have really helped her."
Nadia, Parent (Mathnasium of Vaughan)
"Words can't express the gratitude I feel as a parent when I think about what you have done for Rachel at your Centre!"
Myriam, Parent (Mathansium of Vaughan)
"I think I want to come back next year"
Jacob, Gr 4 Student (Mathnasium of Vaughan)
"It really does help in school, now I understand math better!"
Olivia, Gr 6 Student (Mathnasium of Vaughan)
---
ALERT
SATURDAY MARCH 4th - CLOSED DUE TO INCLEMENT WEATHER