News from Mathnasium of Vaughan
Jan 5, 2023
It's the most wonderful time of the year....for math! Get ready for the New Year! Ensuring your child's math skills are ready-to-go is incredibly important for a happy and successful new year. In the spirit of the New Year 2023 we ...
---
ALERT
SATURDAY MARCH 4th - CLOSED DUE TO INCLEMENT WEATHER
| | |
| --- | --- |
| Sun | CLOSED |
| Mon | 4:00PM - 8:00PM ONLINE & IN-CENTRE |
| Tues | 4:00PM - 8:00PM ONLINE & IN-CENTRE |
| Wed | 4:00PM - 8:00PM ONLINE & IN-CENTRE |
| Thurs | 4:00PM - 8:00PM ONLINE & IN-CENTRE |
| Fri | CLOSED |
| Sat | 10:00AM - 2:00PM ONLINE & IN-CENTRE |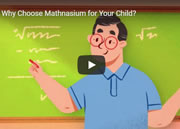 March 6, 2023
Great service. Thank you.
February 6, 2023
What keeps my son engaged are the rewards and mastery level prizes. He was reluctant at first but has come finally come around after seeing his accomplishments and rewards he's earned from mastering the units. Mathnasium has greatly helped with his confidence and love for math.
November 30, 2022
My son improves a lot in just one week
Read More Reviews
Mathnasium of Vaughan Reviews
March 6, 2023
Great service. Thank you.
February 6, 2023
What keeps my son engaged are the rewards and mastery level prizes. He was reluctant at first but has come finally come around after seeing his accomplishments and rewards he's earned from mastering the units. Mathnasium has greatly helped with his confidence and love for math.
November 30, 2022
My son improves a lot in just one week
November 22, 2022
Thank you for your excellent service.
August 21, 2022
So flexible and respond right away. My kids happy to go their.
May 30, 2022
We had a great experience with Mathnasium. The staff was excellent and always available to address our daughters challenges with math. Paul was amazing and very accommodating to any changes. He always replied and kept us in the loop of our daughters progress. We thank you very much and look forward to joinging again in September.
May 13, 2022
So happy with mathnasium! My son already shows improvement and he has only attended 3 weeks so far!
February 28, 2022
Great staff and communication with parents. Always willing to help my daughter when she is stuck on a question or having issues with a topic. Paul from Maple is a pleasure to deal with.
February 13, 2022
My kids are happy going into class for a change! The instructors keep them.well engaged and there are lots of things to keep them motivated.
December 13, 2021
Very pleasant people and helpful for the kids
December 2, 2021
My daughter is in grade 9 IB and was struggling to cope with the heavy load of work. I contacted Paul at Mathnisum Vaughan and he managed to get her on however it was a bit late to accommodate her. She is so confident with her math skills now and her marks re significantly improving! Mathnisum never failed me even with my older daughter! Thanks guys. Keep up the excellent work!
November 28, 2021
Great communication and teachers. Maple is very accommodating and Paul is a pleasure to deal with.
November 20, 2021
My kids have improved a lot and doing great at school
November 19, 2021
I see my daughter getting improvement in math. And the teacher are very nice.
November 4, 2021
My daughter was having a hard time understanding math so I came across Mathnasium.....after 2 weeks she had more confident and she felt great....math grade went up....Staff is friendly and makes you feel comfortable....very happy with Mathnasium
October 28, 2021
Paul Onica is the director at this location and Mathnasium is extremely lucky to have him. He's been amazing in ensuring our daughter receives the support she needs to feel confident and be successful.
October 27, 2021
The staff at Mathnasium are fantastic. Our son truly enjoyed the experience and increased his confidence in math skills. Mathnasium team makes it fun and interactive while helping children learn math skills. During Covid they were flexible and helped pivot to online to ensure continuity. Paul the Director at Vaughan was helpful, courteous, and involved. Our son was also motivated by the Math-bucks reward system too!
October 19, 2021
My son is doing a bit better in his school math tests.
September 8, 2021
Mathnasium provides students with a fun way to learn math. They have helped our children gain confidence and competence in Math. Thanks to Robyn, Paul and the team!
September 2, 2021
Great service. Highly recommended your program. My son has Excell in Math thanks to this program.
July 30, 2021
Excellent experience in the short time my daughter attended. Her marks improved and she became more confident.
July 10, 2021
Great friendly staff. Staff connect with child and make math fun and understandable. Excellent end results!
June 14, 2021
Mathnasium and it's staff is professional and attentive to our children's needs. Thank you!
May 21, 2021
Paul has been super helpful along with the staff at making my son's experience with Mathnasium so enjoyable. He has learned the curriculum well and benefited from the 1:1 learning.
April 29, 2021
Overall very happy with the service. My son has been doing extremely well in math like never before. I would highly recommend this organization.
March 20, 2021
Your positive approach to learning Math is amazing. Since Math is an essential subject for all , it is of outmost priority to implement those skills in an ingenious manner as you do. Convergent and divergent thinking skills are routine in your lessons. Keep up the great program and your students will be excelling with in all subjects. Thank you.
March 5, 2021
My boys have loved the mathnasium so far. Paul- the centre director is the kindest and most dedicated person, always focused on the students safety and well being.
February 22, 2021
My son is quite happy doing math with Mathnasium!
December 21, 2020
Paul is wonderful! A very motivating, organized and comfortable learning environment. Very happy with all instructors my son has had. Job well done Mathnasium Vaughan!
December 19, 2020
The best thing that happened to my son
December 15, 2020
My son is very happy to get help
December 7, 2020
Outstanding customer service led by Paul. Thoughtful and helpful tutors.
December 3, 2020
Great learning environment. Paul is an awesome manager. He is creating a very positive experience for students who are attending the program.
December 3, 2020
Paul is great. He is always polite and very accomodating.
November 20, 2020
You guys are great! Sometimes some tutors are more effective than others. Both in attitude and coaching styles. Love working with Antonio. He's great. Just wish he would be there more often.
September 16, 2020
Both my kids look forward to each class whether it's attending online or in-class. They're confidence in Math has increased so much so that it is now one of their favourite subjects. Thank you everyone at Mathenasium.
September 12, 2020
Great instructors! Paul is attentive to scheduling and student needs. Thanks Mathnasium Vaughan!
September 10, 2020
Paul the centre manager is great and very flexible. My only negative is that the fees are too high.
September 10, 2020
Amazing people, great at what they do and willing to help at any length. They accomodate your child's needs in every aspect of their wants and needs for learning math. I would highly recommend this program hands down
September 9, 2020
The staff is so accommodating! Mathnasium has motivated my son beyond measure. Thank you!
September 3, 2020
Mathnasium in Vaughan has been an excellent experience for our son in 9th grade. Paul, the Manager at the location, is an exceptionally competent person and knows each child's needs personally. The curriculum was flexible and adaptive to the needs of my child. During times of exams or tests - there was always extra help. The structured rewarding system also keeps the kids motivated. The environment is great. All in all, I would highly recommend this place to anyone seeking help in Math - or just even to stay on top of your daily Math studies.
August 21, 2020
Great environment....great staff and always willing to help in any way....my daughter is very comfortable and enjoy the help the provide....she has improved her math skills and grade show that too....
August 8, 2020
Paul and his colleagues have been a pleasure to work with. Extremely responsive to the rapidly changing needs of their students. For consideration; report cards, and parent/instructor interviews should be set up to increase student and parent engagement. This focused and frequent communication approach will ensure the learning is maximized. I have seen a positive transition in my son's ability to tackle math problems. From frustration to applying logical steps to solve the equations. There is a direct relationship between his confidence level and his grades; I am pleased to see that they are both increasing consistently.
July 4, 2020
Flexible, accommodating. fast and reliable communication. Great online system enabling kids to learn safely during pandemic
June 9, 2020
Fabulous caring staff !! So caring. Will def return and refer
June 5, 2020
Mathnasium has increased our kids' skill and confidence with math. They look forward to their sessions and working with the teachers. We are so grateful for Mathnasium!
June 5, 2020
We have had a great experience with the Vaughan location. Paul does a fabulous job at coordinating the schedule and ensuring his customers are content! I would definitely refer people to mathnasium. Thank you.
May 23, 2020
It has improved my grades sooo much. I went from a 70s student in math to a 90s student.
May 21, 2020
since my daughter started she is understanding and has more confidence with finishing her math work....She is also having fun and interacting with the teachers there.....
May 15, 2020
This has been a great experience for our daughter. I would recommend this to anyone needing extra math support for their child. The only part that may ne off putting is the price for some. It's worth it in our opinion.
April 4, 2020
Paul is very helpful. Always flexible and very polite.
April 3, 2020
What a fantastic team, Paul, Russell, and all the instructors at Mathnasium Vaughan!! Always ready to hear us out; super focused and aware of my child's performance and progress. Regular updates by email and face to face on each element and category they are covering. The teaching methodologies are explained and the students are encouraged to participate, contribute and compete! My child always looks forward to the Mathnasium sessions and is truly enjoying the gamification that they have brought to Math!!
March 31, 2020
Mathnasium is a great friendly learning environment. My daughter is attending and she's only been there for 4 sessions and her way of thinking and learning has progressed significantly
March 9, 2020
Friendly kind amazing tutors. Smart professional. My daughters math has gotten amazing. Paul is fantastic!! Not enough good words to explain the care that goes into it. I will def use them Ames's for both my kids.
March 5, 2020
My kids are reenergized about math and enjoying the program! They really look forward to coming multiple times a week.
February 22, 2020
Love it. Really helping with school work.
February 20, 2020
I am very pleased with Mathnasium...my daughter is doing a lot better and her conference level is stronger....it's only been 1 month....
February 8, 2020
Staff is very friendly and accommodating from a schedule perspective. Suggest rules be introduced to quiet the environment. At times too noisy. Some kids disrupting others. I have witnessed Asher on several occasions wing very disruptive. Regards,
February 2, 2020
Paul is really nice and friendly. Also my kids are having fun to learn Math at Mathnasium.
December 17, 2019
Kids are happy to go to their session, sometimes I do have to drag them there but when I pick them up, they are happy they attended. Staff is accommodating, friendly and helpful.
December 14, 2019
The staff, especially Paul who organizes the scheduling for the kids to accomodate them, are amazing. My son has learned a lot from them. They are an amazing team of math tutors who have the knowledge and patience to teach the kids. I would highly recommend Mathnasium. Thank you so much for helping my son in achieving his goal with math help.
December 5, 2019
The program really works for my son.
December 4, 2019
Recently, I've noticed a big turn around with my daughter. She is more pumped to go to Mathnasium now than before. It's great to see!
December 3, 2019
Paul has been great to work with. He has been very accommodating to our schedule. I would definitely recommend it to anyone.
November 4, 2019
Helped my kids with math.
October 31, 2019
Our daughter asks us to sign her up for Mathnasium. It helps build her confidence and her grades show the positive results.
September 17, 2019
A place where my son actually enjoys going to.
September 10, 2019
Since attending Mathnasium my daughter's favourite school subject is math. Not only she has enjoyed learning math, but she also likes to be challenged to better herself. Vanna
August 8, 2019
Best place to go if seeking help with Math. My son's grades improved significantly in less than a month ! Thanks for your consistently great help and flexibility during the last six months!
August 1, 2019
I have seen progress on my child mathematics skills since she started attending Mathnasium and hopefully to restart in the fall season.
July 31, 2019
Great staff and environment for learning!
July 8, 2019
My son had grade 11 and struggled at the beginning of semester. After enrolling him at Mathnasium, he regained his confidence and improved his mark. Thanks to Mathnasium and he managed to stay in the honour roll for the year....
June 14, 2019
The manager, Paul, is very helpful and patient when it comes to answering my questions as well as helping me with the kids schedule. My kids enjoy going to their sessions and find them extremely helpful. When they have trouble with a lesson in school, they are happy to have a place to go to for help. Amazing job to everyone at the Vaughan location!
June 8, 2019
My child has developed a love for math. She enjoys attending her classes here and at school. Has great things to say about the staff as well.
May 18, 2019
We just signed up a month ago bit already seeing a difference in our daughters confidence with numbers. She's a very shy girl but has always felt instantly comfortable with all the staff. They are very friendly and supportive and can already see the value mathnasium has brought! Shannon Mandla
April 18, 2019
Paul is exceptional. Very professional, customer oriented and fair. My daughter has been struggling with math many years. I can see her marks getting better with Pauls help. Thanks and Kind Regards
April 4, 2019
My kids really love coming to class every week. I have seen an improvement in their grades. The place has very nice vibe and the kids dont get bored. They are motivated to do well.
March 15, 2019
Our daughter has made such significant improvements in math since attending Mathnasium. Not only does she work on skills needed for her grade, but the math instructors also help her prepare for upcoming quizzes and tests. We are very happy with the progress our daughter has made!
March 13, 2019
Pleasant and courteous staff, very accommodating and very helpful. I would definitely recommend. My child had a great learning experience.
March 12, 2019
Was very happy with the service they provided and the professional attitude they all have. Really know how to get through to the teenage students.
March 7, 2019
Great friendly staff. Instructors take their time with each of the students. Having my child here has helped with her confidence in math.
March 1, 2019
The team at Mathnasium (Vaughan) is professional and attentive to students needs. My daughter's confidence and skills in math improved through attending sessions at Mathnasium.
February 10, 2019
Mathnasium is a great tutoring centre to further strengthen your mathematical abilities. I have been attending Mathnasium for five years now, and it has always encouraged student success. It is dedicated in enforcing its students' understanding on math concepts The instructors are very friendly and interactive with students, always willing to provide assistance with one's learning . Mathnasium also has an enjoyable system of events to not only motivate students to consistently work diligently, but to have fun as well. The events are comprised of monthly challenges in which students will be put on a team to earn points, weekly popcorn days, weekly themes and more. Mathnasium offers work that corresponds to their students' work in school and teaches easy-to-learn strategies for students to use. I am always excited to go to Mathnasium during the week because I get to learn new things. The centre has a "welcoming" feeling to it which makes me feel comfortable and happy. You get to surround yourself with other students and tutors which builds close bonds.
January 20, 2019
I 'm happy with the staff but the price is very high
January 13, 2019
Emma is really happy with the support that she is getting with Mathnasium. In addition to strengthening the fundamentals, Emma has the opportunity to work through homework and prepare for tests and exams in a supportive, knowledgeable environment. We are really happy with the program. So glad we walked through your door...
January 4, 2019
Shehza/Mustafa Behrainwala
My girls were not keen on math at all...however since starting here, they now look forward to their Mathnasium classes! They keep math fun for the kids and it translates into an increased enthusiasm for the subject. Plus I have seen an improvement in grades as well!
December 13, 2018
Great experience at Mathnasium. The program has really assisted in diminishing the anxiety my daughter had with math.
December 11, 2018
My child absolutely loves coming to this setting. She has gained valuable experience which has helped her excel in mathematics at school. She never turns down the opportunity to attend
November 16, 2018
We are really happy with the help our son has been getting and yes I would recommend your services anytime and already have.
October 3, 2018
My 11 years old son, loves math after starting Mathnasium. Now it's one of his weekly routines to go to Mathnasium. He loves the staff and teachers and also he loves when it's popcorn day or he gets stars and he is very motivated to continue on math. The best of all is that he is on top of his classmates standards and that makes him very much proud and confident. All in all , it's a hundred percent recommendation on my behalf to start and to stick with Mathnasium. Everyone gets benefit and everyone happy.
September 5, 2018
Your team has helped my daughter build her confidence in math. Gone is the "I don't like math" attitude.
July 26, 2018
Sarah had a great experience. Friendly staff !
June 7, 2018
Signed up my daughter based on a referral and I would totally recommend Mathnasium. Staff is super knowledgeable, friendly, patient and welcoming. My daughter finds it very helpful.
May 7, 2018
My daughter has become more confident in problem solving and is willing to take more risks in math! I love that she makes attempts now instead of needing my help all the time.
May 1, 2018
I would like to thank Mathnasium Vaughan including Paul and everyone who worked with my daughter. They have been working so hard with her,she raised her marks a lot And now she got accepted at Engineering program that she was always dreaming of. Would highly recommend Mathnasium if you want exceptional marks at math