Our Results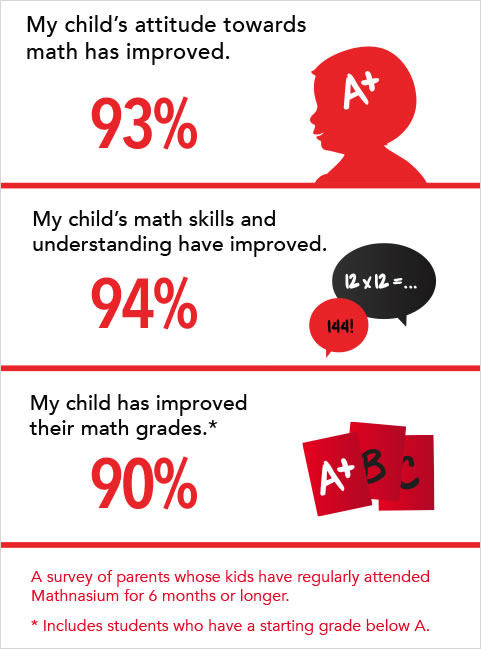 At Mathnasium, we help kids understand math by teaching the way that makes sense to them. Children who consistently attend sessions at our learning centres enjoy a transformative learning experience and make huge strides in the classroom.
Attitude: When math makes sense, kids develop a more positive attitude toward math.

Understanding: Mathnasium teaches for understanding, giving students the ability to succeed in any math environment. As Larry Martinek, Mathnasium's Chief Instructional Officer notes, "It's pretty easy to forget things you memorize and near impossible to forget things you understand."

School Progress: When kids learn math in a way that they truly understand, they achieve greater success in the classroom.
---
See what people say about Mathnasium
"I would like to congratulate Barindra and her team of math tutors at Mathnasium in South Surrey for really helping my son catch up and keep up his maths. He always used to tell me that he disliked maths and that he was no good at it but now he tells me he loves it, loves going to Mathnasium and says maths is easy. What a change! I have recommended Mathnasium too all my friends who have children. Thanks again!" - Ilona Scott
"When our son finished Grade 3, he disliked math and had low confidence in his math skills. The thought of years and years of math ahead was daunting to him. We knew we needed to find him some extra help before Grade 4 started. We researched programs out there looking for the one that focused on building children's understanding of math and helping them to see that it could actually be fun. We found all of this with Mathnasium and just after TWO classes, our son asked if he could attend three days per week instead of two as he was enjoying it so much! He looks forward to going to the class, really likes the instructors, and LOVES the reward cards he earns. In just a few months, his attitude toward math has completely changed and he has gained confidence in his math skills. I am very glad we found Mathnasium and would not hesitate to recommend it to others."
"Our daughter started Mathnasium about 1 year ago. It was the best investment ever! Her grades have gone up along with her confidence. She is no longer scared of math. She is now excited about learning! We are very happy I found Mathnasium!!! I would highly recommend the Mathnasium in South Surrey." - Jas Lattanzio
"Thanks so much to Barindra and her staff at Mathnasium. My daughter jumped a whole letter grade in math and we are MORE Than thrilled! Mathnasium was able to connect her to a learning style that made sense to her and made it fun at the same time. Thank-you!!! - Loren Job
" My children go to school where they are learning French. French Immersion Program offers math in French too. To learn French as a language can be challenging, to learn Math in French, the second language, is a double challenge. I was very delighted to see the sign of Mathnasium in my neighbourhood. When I met the Director of Mathnasium in South Surrey - Barindra Dua, I learned more about the centre and their Math program. The most I like is transparency in the program. Actually, it starts right from the glass door, when you can see interaction between students and instructors. You can come in to the centre at any time, find the binder of your child and see what problems he is working on. I also like the clear, straight forward, understandable evaluation and progress reports. Mrs. Dua is always available to answer the questions, gave an advise and help with the strategy to improve Math study. Kids like to go to Mathnasium! They are catching up, reaching the grade level and I hope in the nearest future they will be ahead of their grades. In real life Math is everywhere and Mathnasium Centre helps to understand and implement it too."
---