Our Results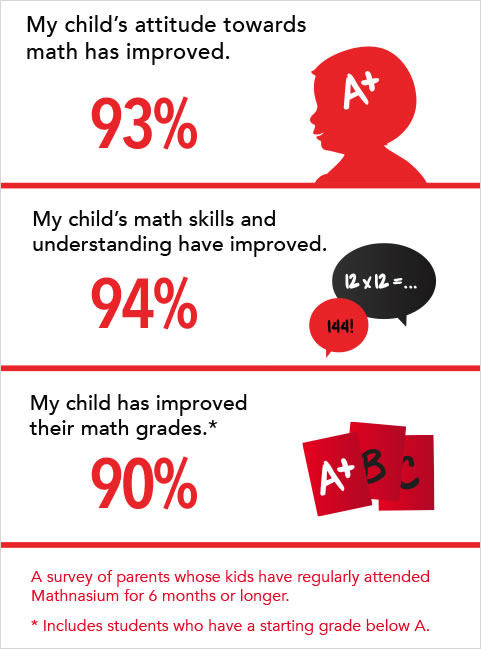 At Mathnasium, we help kids understand math by teaching the way that makes sense to them. Children who consistently attend sessions at our learning centres enjoy a transformative learning experience and make huge strides in the classroom.
Attitude: When math makes sense, kids develop a more positive attitude toward math.

Understanding: Mathnasium teaches for understanding, giving students the ability to succeed in any math environment. As Larry Martinek, Mathnasium's Chief Instructional Officer notes, "It's pretty easy to forget things you memorize and near impossible to forget things you understand."

School Progress: When kids learn math in a way that they truly understand, they achieve greater success in the classroom.
---
See what people say about Mathnasium
---
"My son has displayed great achievements, change in prospective about mathematics & understanding the basics about calculations and all together personal development & confidence level has phenomenally increased.
I will recommend all parents to consider MATHNASIUM for growth of kids."

Bajaj Family
---
"My son has demonstrated significant, noticeable improvement in his math skills ever since his enrolment at Mathnasium three months ago. He is happy both when he goes to Mathnasium as well as when he comes back, a sure sign that he loves what is being taught there. A detailed, analytical progress report sent to us by MATHNASIUM recently is highly encouraging & clearly shows our son having made strides/improvement in almost all areas of maths at his age level.
Highly Recommended!" Sharma Family
---
"Ever since my daughter joined Mathnasium she's getting all A's on her tests and her attitude towards Math has changed.You guys are phenomenal!I highly recommend this program to parents! Jhonston Family"
---
"I would like to thank you for making my daughter enjoy Math! The instructors are warm,friendly and encouraging.I could not believe myself when she got an A on her report card this time,you and your instructors did it which I thought was IMPOSSIBLE!!Thank you very much again!!" Dhaliwal Family
---
"MATH IS FUN" this is what my son told me after his second class,he ask's me every day if he could go to Mathnasium rather than soccer practice.You and your instructors take genuine interest in your students,and make sure they understand the concepts.Those stars that he gets mean a lot to him.MATHNASIUM ROCKS!!
---
ALERT
We are OPEN for both Onsite & Online Programs