Our Results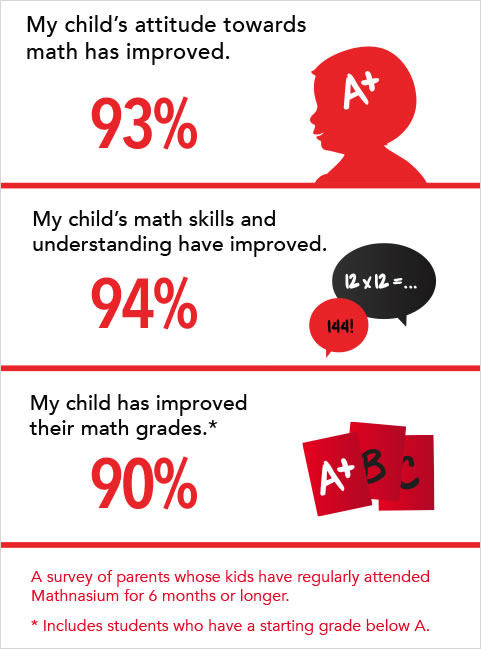 At Mathnasium, we help kids understand math by teaching the way that makes sense to them. Children who consistently attend sessions at our learning centres enjoy a transformative learning experience and make huge strides in the classroom.
Attitude: When math makes sense, kids develop a more positive attitude toward math.

Understanding: Mathnasium teaches for understanding, giving students the ability to succeed in any math environment. As Larry Martinek, Mathnasium's Chief Instructional Officer notes, "It's pretty easy to forget things you memorize and near impossible to forget things you understand."

School Progress: When kids learn math in a way that they truly understand, they achieve greater success in the classroom.
---
See what people say about Mathnasium
Parents have spoken! Mathnasium's @home program is the Most Loved Virtual Tutoring Service of 2021! Featuring the same live, face-to-face, personalized instruction as in our centers, we're proud to be serving families in communities across the country and around the globe! #MathTutoring #MathnasiumAtHome #Mathnasium #CLTM #ChangingLivesThroughMath
Reader's Choice awards hosted by Hulafrog and Local Marketer
https://hulafrog.com/hulafrog-at-home/mathnasium--8/
Our families continue to provide us with positive feedback and encouragement.
Thank you for the votes of confidence, and for allowing us to change your children's lives with math!
Some Parent Reviews - Please see the full list to the right under "Reviews"
May 9, 2019
C.A.
My daughter likes to go to Mathnasium every class without any nagging, I guess that's the proof that they are doing things right. Thanks Chris and team.
April 21, 2019
D.R.
Great program and the instructors are smart and friendly.
April 15, 2019
S.S.
You make math really fun and easy. Thanks
April 13, 2019
W.H.
My son has definitely regained interest in math since he joined Mathnasium. He enjoyed going to each class knowing that he will be supported if he runs into questions / challenges. Everyone there is very helpful and friendly, the best part for my son is the class always ends on a positive note with a math friendly game! I would definitely recommend Mathnasium to my family and friends.
March 5, 2019
M.M.
The teaching staff are very helpful and tailor the learning to what my daughter's needs were ... very accommodating and flexible with the timing. We had an overall great experience with Chris and his entire teaching staff who worked with my daughter !
March 5, 2019
Q.X.
Great curriculum and amazing staff!
January 29, 2019
J.T.
Great staff and wonderful learning atmosphere.
January 28, 2019
C.A.
Nice and welcoming staff.
January 13, 2019
D.L.
My daughter loves going to Mathnasium, she is very confident in any math subjects. I am very happy that we put her in Mathnasium of Richmond Hill early.
January 8, 2019
E.C.
Friendly and knowledgeable staff! Flexible program that is willing to accommodate my child's individual needs!
Well done Mathletes!
Your consistent attendance and hard work shows!
Please see the article below from the Toronto Star, December 23 2017:
Well done to one of our consistent students.
She is very well positioned for Grade 9 (high school) in the fall:
Some more typical results after consistently attending our learning centre:
See how our mathletes shine in math tests at their schools! We need a bigger brag board to display them all. Congratulations and well done to all our mathletes! Keep those awesome test results coming!
ALERT
We are OPEN for in-centre AND online instruction. Please call or email us for further information.