Our Results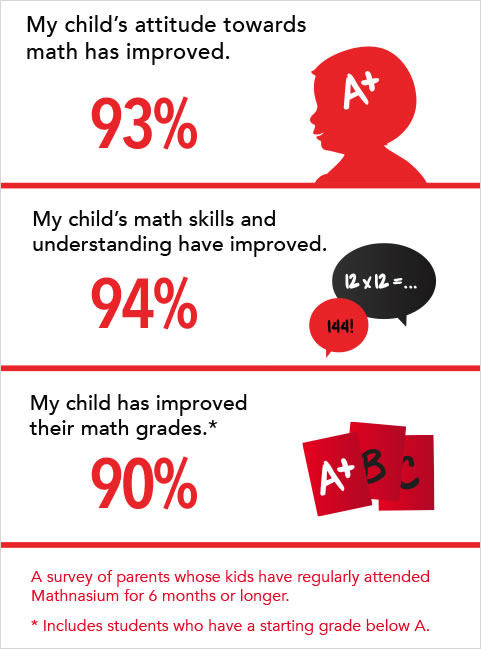 At Mathnasium, we help kids understand math by teaching the way that makes sense to them. Children who consistently attend sessions at our learning centres enjoy a transformative learning experience and make huge strides in the classroom.
Attitude: When math makes sense, kids develop a more positive attitude toward math.

Understanding: Mathnasium teaches for understanding, giving students the ability to succeed in any math environment. As Larry Martinek, Mathnasium's Chief Instructional Officer notes, "It's pretty easy to forget things you memorize and near impossible to forget things you understand."

School Progress: When kids learn math in a way that they truly understand, they achieve greater success in the classroom.
---
See what people say about Mathnasium
R's Learning Journey
(written by R's Mom for Mathnasium of Red Deer)
Every parent wants their child to succeed and to be happy. Sometimes it takes years to find the key to unlock a child's complexities.
Flashback: R's Life in Australia
In her first year of teaching, R's first teacher was overwhelmed by a sea of multi-hued faces, most of whom spoke no English, had not attended kindergarten and had no experience of how to be in a classroom. The year was a struggle for the teacher, but I suspect most of the children had a ball. Play-based learning can be good learning, but for a child like R, who had the benefit of intensive and creative early years, plus an excellent kindergarten year, this more of the sameness dampened any incipient enthusiasm he may have harboured for formal education. He did what everyone else did, and his charm and quick wit, let alone the fact that he was one of 3 native English speakers in the class, positioned him in a role of not needing very much of anything at all.
His subsequent three years at school were characterized by the fact that R had picked up magnificent powers of work avoidance. His eloquence and social skills masked his underlying lack of self-confidence to try. For two years, regular temper tantrums banished him from engaging with learning. We expressed concern to his teachers. School leaders regularly reassured us that R's behaviour was normal, and that we shouldn't expect too much from him.
Even during his early years, R was not a fan of anything related to fine motor skills. He wouldn't write, draw, colour, paint, play with playdough, build with blocks, use scissors, paste or put together puzzles. Rowan is a people person. He is an avid reader and storyteller. He is intensely interested in drama, music, history and film. He loves to run, jump, climb, balance, challenge himself physically.
R's Life in Canada Started in December 2019; He was in Grade 3
Fast forward to our year in Canada, and a fresh start for R in school. We were pleasantly surprised to discover structured, formal learning is a thing, here. We hoped R would benefit from a new situation. He was placed in Grade 3 and as continued to love to go to school. He made friends immediately and gravitated towards those who were less inclined towards academic achievement. We were still on a wait and watch when schools shut down in March, due to the pandemic.
Whatever we were trying to do with home learning was a disaster. R refused to cooperate. R's teacher posted elaborate weekly math assignments that left R frustrated and furious with us for trying to make him engage. Like so many before, R's teacher thought we should simply require R to do his work and expect him to comply. Ha! Compliance has never been part of Rowan's vocabulary. He said that R should do what he could manage; that R could do a great deal more than he was allowing his parents to see; that although R might never excel at Math, he was within the normal range of ability within his class.
R's Crossing Path with Mathnasium – End of Summer, 2020
Finally, Summer came, and we went camping. Maybe next year R would get an empathetic teacher who cared about the fact that he still struggled with his basic number knowledge, failed to trust the count, and whose younger brother answered any math-related questions that arose, effectively masking R's difficulties.
Towards the end of Summer, we found Mathnasium. We convinced R to give it a go. He went through the testing process in a subdued but determined way, which surprised me. R never seems to have learned that practicing and applying oneself to master a task leads to success. Giving up, avoiding and pretending that it doesn't matter has been his way, but he always wants to make a good impression.
The test results showed what we already knew – R had significant gaps in understanding basic number facts, which spiralled into his inability to even grapple with addition and subtraction. Finally, we found people who were willing to see beyond R's bravado to the angry, frightened little boy underneath, who believed it was his own fault that he was unacceptably stupid and was risking his life to expose his failings.
That sounds dramatic. Next day, R was supposed to attend his first learning session at Mathnasium. We could not get him out the door. He was shaking, sobbing violently, arguing, threatening and in severe distress. After three-quarters of an hour of this, both parents managed to get R to the Mathnasium Centre, where his intense need to present as ok kicked in.
It took about three weeks of regular attendance before R trusted Yani and Riwan enough to attempt any math. He responded to their gentle positivity, assurances that he didn't need to know what to do in order to try, to food bribes, prizes and games. After six weeks, R started looking forward to going to Mathnasium. As his confidence grew, the gaps in his knowledge and understanding filled up. Regular mastery checks helped R to know that he was improving and succeeding.
Our family dynamics have improved so much that it is hard to remember how bad things were in April. R no longer needs to forestall his younger brother, put him down and stop him from being clever anymore, because R matches his wit and humour. R now has experience of stickability and persistence to succeed, a life skill that has completely turned him around and transformed his idea of himself.
R's idea of himself has changed for the better. He is not so defensive, and he stands much straighter. He is still mischievous and quite the larrikin, but he has proven to himself that he is not stupid. Recently, R said that Math is fun. I nearly fell off my chair.
Thank you Yani and Riwan and thank you Mathnasium!