Our Results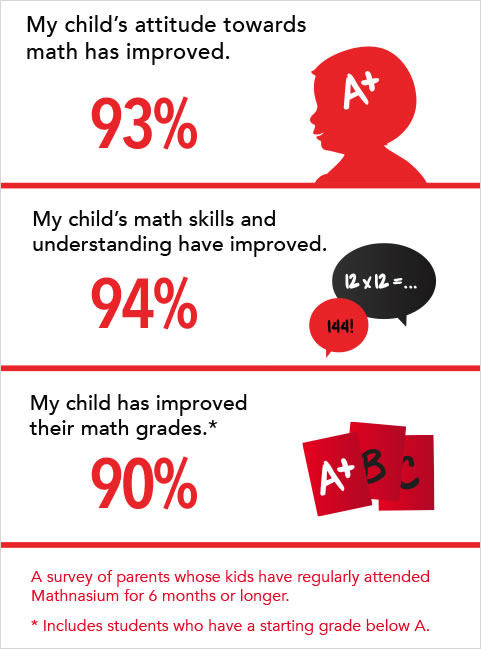 At Mathnasium, we help kids understand math by teaching the way that makes sense to them. Children who consistently attend sessions at our learning centres enjoy a transformative learning experience and make huge strides in the classroom.
Attitude: When math makes sense, kids develop a more positive attitude toward math.

Understanding: Mathnasium teaches for understanding, giving students the ability to succeed in any math environment. As Larry Martinek, Mathnasium's Chief Instructional Officer notes, "It's pretty easy to forget things you memorize and near impossible to forget things you understand."

School Progress: When kids learn math in a way that they truly understand, they achieve greater success in the classroom.
---
See what people say about Mathnasium
---
---
---
Read through some of great testimonials parents left for Mathnasium Of Oakville (below) and to the right of the page under "Reviews", and see how we are Changing Lives Through Math™.
Recent Testimonials:
Mathnasium of Oakville
Extremely Happy Parent - Grade 12:
Thank you for helping Ed achieving this high mark for university (the highest in his grade 12 class).
---
Extremely Happy Parent - Grade 10:
We will definitely recommend you to friends in the neighbourhood - without your tutoring Peter (changed for privacy) not have passed math last year - instead his mark went up by over 10%. We were very pleased with this result.
Thank you Mathnasium Oakville.
Celissa (changed for privacy)
---
Extremely Proud and Happy Parent - Grade 9:
When my son started high school , I had real concerns about his math grades and I was looking for extra professional help. While I was browsing, I saw Mathnasium of Oakville & the fact that they won the platinum Award for best Learning Center. Registering him in Mathnasium of Oakville turned out to be a great decision as he shown a real improvement in math & was able to achieve one of the highest marks in Grade 9. Not only that but he really enjoyed his tutor and started to like math. We are looking to enroll him for next year too.
Many Thanks.
Ms.Nane
---
Extremely Happy Parent - Grade 12:
Mathanasium of Oakville has been instrumental in making my son both enjoy and understand math.
In grade 12, he has improved his mark by over 15% but most of all is no longer intimidated by complex math problems. He knows how to break the information into smaller chunks and and is able to build on the previously acquired knowledge. He enjoys the informal, small class setting of Mathanasium.
In addition, Mathanasium of Oakville has been helpful anytime we needed to reschedule classes to accommodate our hectic schedules.
Thank you,
Ren
---
Proud Mathnasium Parent / School Teacher - Grade 8:
As a parent of a grade 8 student who struggled with Math, I would strongly recommend using Mathnasium's services. There is nothing worse than to watch your child suffer alone with math homework. Mathnasium's program provided the essential structure, expertise and support that turned our daughter into a successful math student. The instructors at Mathnasium Oakville are reliable and will work with your child to develop their skills and confidence. Mathnasium gave our daughter the opportunity to experience herself as capable of accomplishment in Math. If your child would benefit from extra help, this is definitely the place to go. Thank you Mathnasium of Oakville!
Ms.Nate
---
Extremely Proud and Happy Parent - Grade 7:
My son was in grade 7 this past academic year and he started with Mathnasium 1 year ago (end of grade 6/entering grade 7). He has told me that Mathnasium has helped closed the gap in his understanding of math and that it has been beneficial having the Mathnasium tutors as another learning option to school. This past spring he participated in the Gauss math competition run by the University of Waterloo and he got a certificate indicating he scored in the top 25% of all participants. Thank you Mathnasium!
---
Proud Mathnasium Parent - Grade 5:
Mathnasium Oakville provided L...a haven to rebuild her self-confidence. Grade 5 math was intimidating for her and the first few months got her down on Math. The Mathnasium program which she is familiar with through her brother gave her attention and direction on how to work on Grade 5 without losing confidence. They were kind, patient and made it fun too! Mr.B
---
Proud Mathnasium Parent - Grade 11:
Mathnasium makes Math sense! I recommend this tutoring centre in Oakville. They have a great programme that fortifies a child's Math foundation. It is without a doubt that Mathnasium Oakville has helped my son over the past year. He did so poorly in grade 9 that his teachers in school were anticipating that he wouldn?t pass grade 10. However, with Mathnasium's help, he went on to complete summer grade 11 applied math with 90%. Well done Mathnasium of Oakville. Thanks. Mrs.J
---
Proud Mathnasium Parent - Grade 8:
My son gained comprehension of Math and developed a confidence as a result of your guidance. I can see the improvement in his tests at school. Keep up the good work! Ms.N
---
Happy Mathnasium Parent - Grade 11:
Thank you very much for everything you have done for Cathe, we really appreciate it. She has consistently improved her marks and gained more confidence. The tutoring has really made a difference.
Thanks so much to the entire Team.
Kate
---
Proud Mathnasium Parent:
We were short term in Canada (3 Months) and joined Mathnasium of Oakville for this period. The two things that struck me were the confidence it built up in the children. This is the biggest factor in such a short time. They were confident to tackle difficult problems rather than setting them aside. Second is the teachers. Every child is different and each teacher has a slightly different approach to explaining the problem. Children can find the tutor the works / matches their learning needs. This is excellent, rather than a single tutor. The children have a special thanks to their teachers. Thanks Mathnasium of Oakville. Ms. K.Mc
---
Read through some of the more great testimonials parents left for Mathnasium Of Oakville to the right of the page under "Reviews" ---->
---