Our Results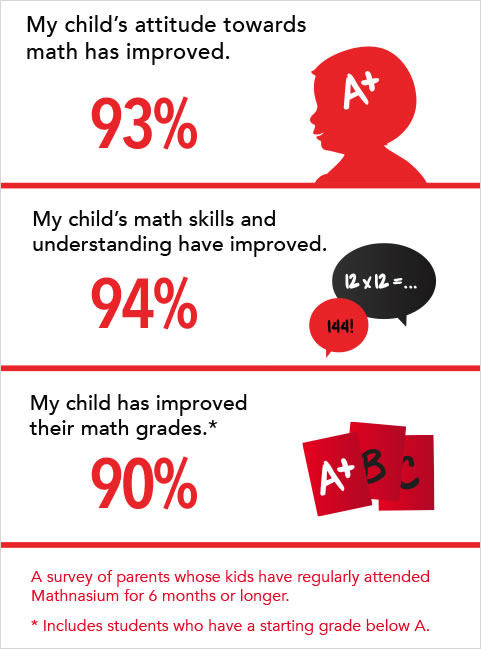 At Mathnasium, we help kids understand math by teaching the way that makes sense to them. Children who consistently attend sessions at our learning centres enjoy a transformative learning experience and make huge strides in the classroom.
Attitude: When math makes sense, kids develop a more positive attitude toward math.

Understanding: Mathnasium teaches for understanding, giving students the ability to succeed in any math environment. As Larry Martinek, Mathnasium's Chief Instructional Officer notes, "It's pretty easy to forget things you memorize and near impossible to forget things you understand."

School Progress: When kids learn math in a way that they truly understand, they achieve greater success in the classroom.
---
See what people say about Mathnasium
Testimonials from our clients:
My son, who just entered grade 9, spent all summer improving his math skills for highschool. Yesterday he had no homework. I asked him why ? He replied I was able to complete the math homework in class. Mom, I was the only one who finished my work in class and by the way, the teacher told the class to only completed every other question but I decided to do them all!
The team at mathnasium is dedicated to your child's success! We are so happy with our sons confidence in math.
Mathnasium-Tania has worked very patiently with my daughter Zahra who is recovering from a concussion. She is giving my daughter the time and space she needs and making sure her headaches are not soaring. Zahra feels more confident going back to school after 5 months. Thank you Mathnasium.
Mathnasium has been a great experience for helping our child to not only improve on his math skills, but to build confidence in taking on challenges and asking questions. The team at Oak Ridges Mathnasium creates a friendly and positive leaning environment.
The teachers are incredibly knowledgeable, friendly and helpful. They are accommodating to every student's needs and readily available to answer any questions. It's a very positive and pleasant environment. Thank you Mathnasium, for continuing to provide excellent service and to give each child that unique experience!
We love the support and warmth we experience at Mathnasium in Oak Ridges. It has propelled our child's appreciation of math.
Our daughter loves math more since enrolling her in December 2016. Her last 2 tests she wrote she's scored 100%!
The instructors are knowledgable and work well with my kids. The owner (Tania) at this location is a caring and accommodating person which makes the whole tutoring experience worth it. Her interest is always the student and she gives accurate assessments so you know if your child still needs tutoring. Meaning she is not there just to collect your money even though your child clearly is doing much better. That is rare in this industry. My kids enjoy this location and I have one right around the corner from where I live, but I make the 20 minutes or so drive to this location, because of these reasons.
Both my girls are new to the program. They feel welcomed and already are talking about math in a positive way. Iam very happy with the instucters and how accommodating Tanya has been to our busy schedules.
My teenager thoroughly enjoys attending Mathnasium Tania is FANTASTIC!
- D. I.