Our Results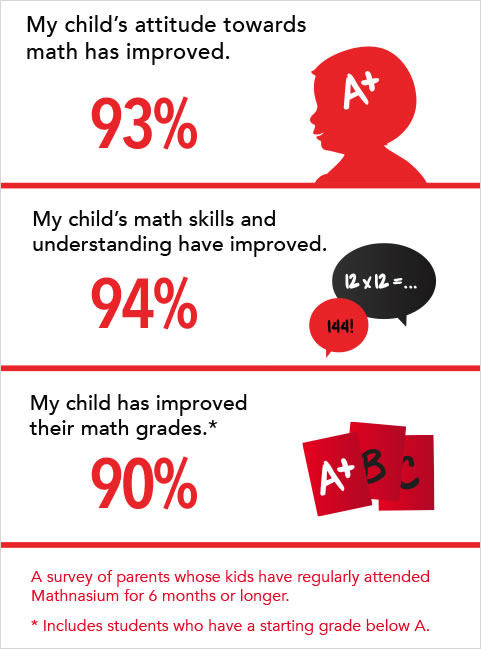 At Mathnasium, we help kids understand math by teaching the way that makes sense to them. Children who consistently attend sessions at our learning centres enjoy a transformative learning experience and make huge strides in the classroom.
Attitude: When math makes sense, kids develop a more positive attitude toward math.

Understanding: Mathnasium teaches for understanding, giving students the ability to succeed in any math environment. As Larry Martinek, Mathnasium's Chief Instructional Officer notes, "It's pretty easy to forget things you memorize and near impossible to forget things you understand."

School Progress: When kids learn math in a way that they truly understand, they achieve greater success in the classroom.
---
See what people say about Mathnasium
---
Real parents of newly enrolled Mathnasium Mathletes:
Derek and Jesse:
If I had any tiny concerns about ******* joining your service, they were erased this morning. She used the strategy pointed out by Jesse last night when she finished her math homework. For example, when she was adding two numbers up she started to "count" then she stopped herself and said "Wait, 8 + 2 is 10, I have 3 left over so that is 13" This continued for both adding and subtracting. I know there will be a few bumps, but we are starting off on the right foot. And thank you Jesse for talking so much to my daughter last night, you made her feel good and helped put her at ease. We look forward to working with you and your team. Thank you.
---
Thank-you for meeting with us last evening. I was impressed! You made ***** feel very welcome and he came out of there saying "I want to join!" Already I see more confidence in him. We had been to Kumon last year and did not join - there is no comparison!
So we are in! I would like to do the year membership!
---
Since she started at Mathnasium, she has no complained or cried once about doing her math! She loves doing it now! The change in her already is unbelievable and in such a short time!
---
It's about results. My son goes, he does well in math, he doesn't, his grades suffer. It's a big commitment for him but I know he feels much less pressure about math because he puts his effort in a Mathnasium and doesn't worry so much about trying to figure it out on his own, which leads to more stress and anxiety.
---
---