Our Results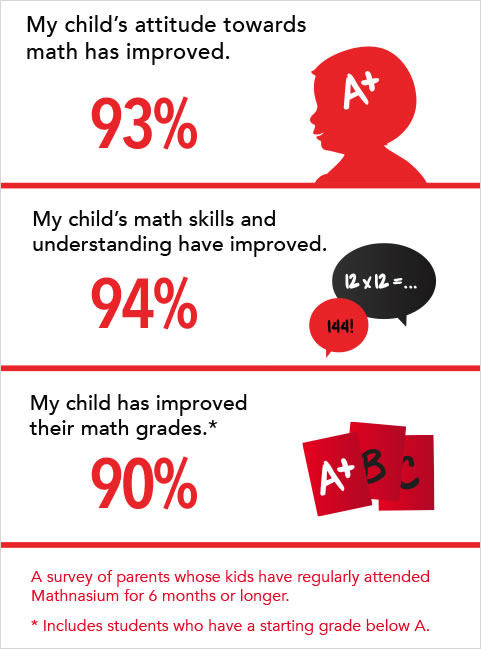 At Mathnasium, we help kids understand math by teaching the way that makes sense to them. Children who consistently attend sessions at our learning centres enjoy a transformative learning experience and make huge strides in the classroom.
Attitude: When math makes sense, kids develop a more positive attitude toward math.

Understanding: Mathnasium teaches for understanding, giving students the ability to succeed in any math environment. As Larry Martinek, Mathnasium's Chief Instructional Officer notes, "It's pretty easy to forget things you memorize and near impossible to forget things you understand."

School Progress: When kids learn math in a way that they truly understand, they achieve greater success in the classroom.
---
See what people say about Mathnasium
Our Students and Parents Share:
"We have had both of our children in Mathnasium of Lakeview since the beginning because of the brilliance and talent of Mrs. Shkodra. She sees the diamonds in rough and nurtures each and every child until their brilliance shines and they begin to beam on their own. She is a unique and special person and an especially gifted educator. We have raved about her to everyone we know and many of our children's friends and peers have ended up at her centre as a result. She is one of kind." - A. Kovacevic, Parent
Hello Erena,
Thank you so much for your kind email and for reaching out. Both our girls are very much enjoying coming to Mathnasium and your description of each very much fits their individual personalities. Ol. is typically much more forthcoming and expressive of her emotions and P. tends to be a bit more withheld and shy especially when meeting new people and in new environments. That being said, P. is incredibly enthusiastic about what she is learning with you and her other tutors. She is thrilled to come and has also written you a letter she would like to pass on which tells you a bit more about how she is feeling.
We are very pleased with how their entire attitudes toward learning math and the acquisition of mathematical skills has turned into such a positive and confidence building experience. I have also witnessed already an ability to compute more quickly and a general improvement in number sense.
Thank you for your continued dedication to your work. Your love for it shows in many ways and is reflected in the learning experience you share with your students.
We will see you this afternoon,
Warmly,
S.
"Mathnasium of Lakeview is a place where I know that my daughter is taken care of. It is not like any other place. They actually make sure that my daughter understands what she is doing. My daughter loves it and I would recommend it to anyone." L. Kodler - parent
"A Fantastic Experience!

My daughter has been attending Mathnasium of Lakeview/Mississauga since February and I have seen her become confident and comfortable in all her math areas. Her grades have improved and she no longer struggles with homework. Mrs. Shkodra is one of the most fabulous teachers I have ever met. She is smart, kind, extremely patient and knows how to really teach children and get the most out of them. This is by far the best math program I have experienced and I know you will not be disappointed if you sign your children up. - T. - parent
"My wife and I were looking for an after school program that would enhance and supplement our kids daily academic program. To our pleasant surprise we discovered Mathnasium-Lakeshore and had a productive conversation with Director-Erena Shkodra.
Erena provided a complimentary assessment for both our children and proceeded to develop an individualized education plan customized for the unique needs of each child. The Mathnasium model is not a "one size fits all" approach.
We have found our kids to be fully engaged in the program and their personal development has expanded exponentially in very short order. The monthly games nights have also helped our children to develop socially and emotionally.
If you are looking for a supportive and encouraging environment for your children to grow and enrich themselves both academically and socially I would recommend you explore Mathnasium and see what doors can be opened for your child within a safe, supportive and inclusive environment." I. Thorburn - parent
Mathansium f Lakeview helped me so much. I used to get 60% before I came to Mathnasium of Lakeview and now I get only 100% in tests. " Melissa, L. - student
"My son was below average when he started at Mathnasium of Lakeview. He lacked confidence and the skills he needed for grade 5 math. Since starting, his confidence hs improved and so have his grades! He loves coming and the feeling he gets when he finally understands a concept!" M. Ludlow - parent
"My daughters confidence improved as she was able to understand classroom material. Her grades improved to A within 3 months. She started in October at a grade lower than her actual grade and is currently working 3 grades above her level. I was given various scenarios for her lack of skill in math at school. I understand now that a child excels when they are given strategies and positive reinforcement. My children love coming." L. Jacques - parent
"Mathnasium of Lakeview is amazing and I'm doing so much beter in class. I'm also ahead of a lot of people in my class. I like how the teachers teach here! They make it fun and help you understand things. Of course my favourite teacher is all of them! Thank yu Mathnasium of Lakeview!" Julia, L. - student
"I was OK in math, but because of Mathnasium of Lakeview I'm AMAZING at math. Also you learn Lots of new things." Matteo, B - student
Hear What People Say About Mathnasium