Our Team
Our specially trained math instructors will teach your child how to understand math in an individual setting; our unique approach enables us to explain concepts really well and lend a helping hand to every student. Our tutors foster a caring, encouraging environment that helps kids thrive and learn! Read below to learn more about our talented team:
Linh Vu, Owner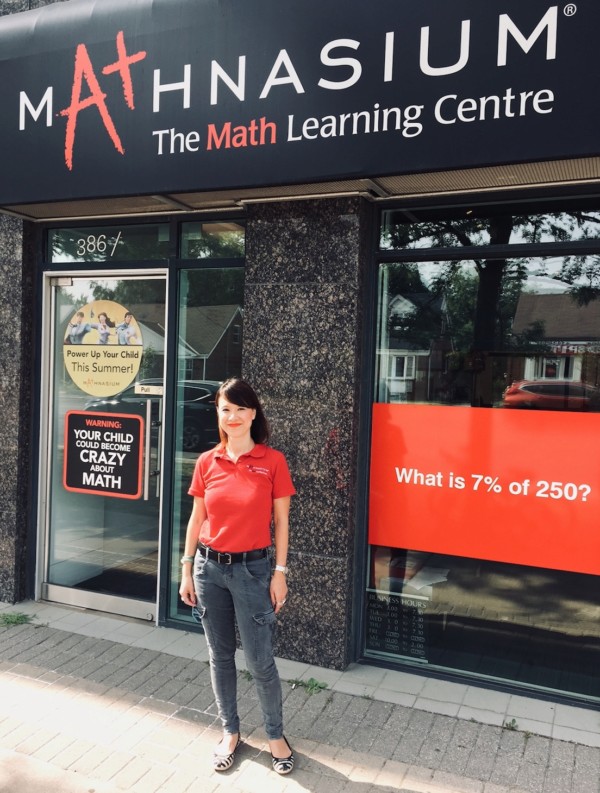 Linh is the Owner of Mathnasium of Don Mills. Linh's extensive knowledge of mathematics education and curriculum make her a valuable asset to the centre. For more than 20 years, Linh has worked with leading math experts, publishers, and the Ministry of Education to create mathematics learning materials for K-12 classrooms.
Having recently completed work on a pre-calculus student and teacher resource for Grades 11 and 12, Linh is currently working with a leading math publisher on the development of a brand new national core math series for K-9 schools that will support and address new changes to the Ontario curriculum.
Linh's commitment to education in the STEM fields and her belief in the importance of providing children with a strong foundation of mathematical learning led her to Mathnasium. She is a graduate of the University of Toronto Honours Physics program and has lived in the North York area for close to 20 years.
Linh's 13-year-old twin boys have grown up in the neighbourhood school system and are avid math learners. She looks forward to developing your child's love of math and is excited to be an active partner in your child's education.
Jeff Gaffen, Centre Director
Jeff graduated from the University of Toronto, earning an Honours Bachelor of Science with a double major in Astrophysics and Psychology and a minor in Mathematics. He is an Ontario Certified Teacher who graduated from the University of Ottawa Teacher Education Program, earning a Bachelor of Education with intermediate/senior qualifications in math and physics. He has worked as a math and physics teacher, as well as the Head of Guidance in private secondary schools with a specialized focus on international students, assisting with course selection and throughout the post-secondary application process. Jeff has a deep appreciation for mathematics, and believes that an immersion into the world of mathematical understanding begins at a young age. Using the Mathnasium method, Jeff's goal is to share his love of mathematics with others, and ultimately teach students the skills, number sense, and problem solving strategies that they can use for the rest of their lives.​
Mariam Essa, Assistant Centre Director & Centre Lead Instructor
Mariam has a Bachelors degree in Mathematics and Economics from Royal Holloway, University of London (UK). She has a passion for Mathematics and aims to share her love of the subject with others. In Pakistan, she worked for a newspaper before proceeding to take an administrative position at a school. She discovered her passion for teaching by chance, when asked to be a substitute teacher in a statistics class for a few weeks. Her hobbies include travelling, solving Sudoku puzzles, and drinking coffee.
George
Verveniotis

, Lead Instructor

George is a graduate of the University of Waterloo with a Masters in Mathematics. After a successful career of over 25 years in business finance, George has always maintained his passion for math and understands the importance of building a solid foundation. He likes to share his enthusiasm and is always trying to achieve those 'ah ha!' moments when a student says "I get it!" He is committed to leveraging his career experiences to help students gain confidence in math and reach their true potential.
Taghreed Safaryan

, Instructor & M

athnasium@home Administrator

Taghreed has a Ph.D. degree in Telecommunication Engineering, along with M.Sc. and B.Sc. degrees in Computer Engineering. She started her career as a professor in the university setting. She has more than 10 years of teaching and administrative experience, providing academic leadership, developing curriculum, and supporting students to achieve their academic goals. During her work experience, she built up a strong confidence teaching math subjects to adults and children online and in person. Taghreed chose a career as an instructor because she loves helping students to build their confidence in math. She believes that each student is unique, and uses different teaching strategies to keep each student engaged and excited about learning math. In her free time, she loves cooking healthy dishes, travelling, and hiking.
MEET OUR INSTRUCTORS
At Mathnasium, our primary prerequisites for instructors are to be excellent at math, to interact well with children, and to be able to teach exceptionally! Our instructors include certified math teachers, university graduates of math, physics, aeronautical engineering, computer science, and statistics.
We find that children are inspired by those who have taken their math knowledge and are looking to apply it in the real world. Our instructors become role models to our students, showing them that math doesn't have to be intimidating and can be fun. We have even had younger students express their goal of wanting to be a Mathnasium instructor and help kids learn math when they grow up. I don't think it is saying too much that Mathnasium instructors change lives, helping students to achieve their full potential, and encouraging them to embrace math instead of giving up on it.
Cristina
Cristina is an Ontario certified teacher with a permanent dedication to mathematics. Cristina's interest in teaching math developed at an early age and she dedicated herself to becoming a life-long educator and learner. She gathered many years of experience in teaching math at various levels in both Romania (M. Math) and Canada (B.Ed. Math and Physics). Cristina teaches math so she can learn about the world and all of those infinite possibilities that our minds bring every day. She strives to instill a similar desire in all of the students with whom she works. When she does not do math, Cristina loves long walks in nature.
Danny
Danny is currently in his 4th year at the University of Waterloo studying Accounting and Financial Management while teaching part-time at Mathnasium. He has always been passionate with numbers, as well as giving back to the community. Danny believes that being good at math is an important foundational skill no matter what a person ends up doing in life, and having someone to guide you to bettering your math skills is equally important. That is why he is here at Mathnasium –- to share his passion for math! Danny hopes to create an enjoyable learning environment for Mathnasium students, and looks forward to working with all of our students!
Eliza
Eliza is in her final year of the Honours Bachelors of Mathematics in the concurrent education program at York University. She will begin her Bachelors of Education in Fall 2021. She has always been passionate about teaching, particularly in the STEM field, and has worked in a variety of roles. In addition to teaching mathematics, she has taught 3D printing, Arduino, arts and piano. She enjoys working at Mathnasium and teaching the different math topics to students of all ages. Eliza loves to learn new things in her free time and is always excited to share her knowledge.
Kyle
Kyle is a recent graduate of the University of Toronto, holding an Honours Bachelors in Sociology/Statistics and Criminology. He has a keen interest in math and logical reasoning, and won School Champion for the Pascal math contest in 2013. Kyle aims to utilize his extensive experience in tutoring and assistant teaching to help students excel in math and develop critical thinking skills. In his spare time, Kyle enjoys solving logic puzzles and playing music.
Nicholas
Nicholas is currently a full-time Management student at York University. Before doing his Mathnasium training, Nicholas gathered experience peer tutoring classmates in high school in math and sciences. He is interested in bridging the gap between effective leadership / soft-skills communication and technical / hard skills education. Nicholas believes that Mathnasium provides a strong framework to improve not only a student's technical skills in math, but also their confidence in communicating and leading with math rigour. Nicholas is the co-founder of Math To Talk - a newly found, up-and-coming club targeted towards Commerce students at York University, focusing on improving the technical and mathematical skillsets associated with higher success in business. The club will officially launch in January 2021. Nicholas is a former Mechanical Engineering student from the University of Ottawa.
Nicolle
Nicolle graduated from the University of Toronto, achieving her Bachelors degree with a double major in Mathematics and Music. Nicolle appreciates the diverse backgrounds of students and understands that teaching not only involves effective interaction with the curriculum, but also individualized approaches that allow students to use their strengths and overcome their challenges. She is passionate about helping students learn and enjoy mathematics while learning problem-solving skills to help improve their academic outcomes. During her leisure time, Nicolle enjoys Sudoku, knitting, and composing music.
O'Shane
O'Shane is a professional who works in both the engineering field and academia. His love for math encourages him to take on roles that involve both practising its principles and teaching it. He has been teaching and tutoring mathematics for 4 years and he thoroughly enjoys seeing his students develop and sharpen their math skills. He believes Mathnasium's method of helping students to actualize their potential is very effective. He also boasts that Mathnasium has reinforced numerous skillsets that he had developed from his days of being a student. He therefore encourages students to work out their math muscles at Mathnasium of Don Mills.
Rachel
Rachel was a Mathnasium student for many years before becoming an instructor. Having been through the program herself, she understands the benefits of learning through the Mathnasium Method. She wishes to give other students the same opportunity she had to build strong foundational skills in Mathematics. Rachel is pursuing post-secondary education in the business field. In her free time, she enjoys reading books of every genre, trying new food, and spending quality time with her family.