Our Results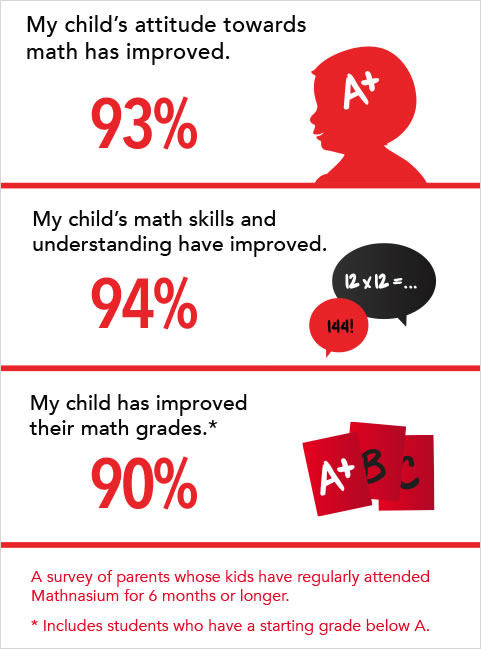 At Mathnasium, we help kids understand math by teaching the way that makes sense to them. Children who consistently attend sessions at our learning centres enjoy a transformative learning experience and make huge strides in the classroom.
Attitude: When math makes sense, kids develop a more positive attitude toward math.

Understanding: Mathnasium teaches for understanding, giving students the ability to succeed in any math environment. As Larry Martinek, Mathnasium's Chief Instructional Officer notes, "It's pretty easy to forget things you memorize and near impossible to forget things you understand."

School Progress: When kids learn math in a way that they truly understand, they achieve greater success in the classroom.
---
See what people say about Mathnasium
"When you see RESULTS, SUCCESS becomes an ADDICTION!"
- Our Parents Speak
---
Martha N...
Hello Vineet!!
It's Martha , Marthena's mom. Texting you from Miami Florida.
How are you ? Hope things are well with you and Mathnasium. You must be very busy as usual. Wanted to update you on Marthena's progress.
She graduated last week from college with high honors and obtained an AA degree. She will graduate from high school in two weeks time. She did great! Especially in math which is difficult here on the AP calculus level. Your preparation for her over two years ago helped tremendously. Thank you.
This fall she will be attending FIU, a university here in Miami with a full scholarship. They offered her their Presidential scholarship( full ride ), one that will allow her to complete her four year undergraduate studies. She worked very hard over the last two years.
We sometimes still reminisce her time with you to remind her the importance of sacrifice, hard work and dedication.
We are coming home this summer for a visit and will try to make time to come by you for a visit!
All the best Vineet in your work to help our kids in their quest for loving and doing great in math, an important subject that allows them to broaden their knowledge and creativity to better relate to life as they go forward.
Martha
Sent from my iPhone
---
Sherine Rafik
We have been with mathnasium Burlington since they opened. I am so happy with my kids progress in math. Instructors are always knowledgable and very helpful.
---
Martha N
Marthena - Achieves the impossible!
From Martha N, May 1, 2015
"My daughter Marthena started her journey with Mathasium and Vineet in April 2014. At the time she was in grade 9 and doing well. Our family is planning to move to the USA; specifically to the Miami, Florida area, the following year after Marthena completes grade 10.
After extensive research we found a high school which ranks 6th nation wide and 1st in Florida called School For Advanced Studies (SAS) which would be ideal for our daughter to attend. SAS is an AP school for only grade 11&12. Situated inside the Miami Dade Community College, SAS students are enrolled in a dual program where students take both high school and college courses simultaneously. Upon graduation students can obtain both HS and College diplomas.
Due to the challenging academic curriculum, applicants must achieve minimum GPA of 80s or more, take the PERT (post secondary readiness test), and must meet the minimum requirement score in order to be qualified in the final selection process, which is extremely competitive.
At the time, Marthena had 5 1/2 months to study in preparation for the PERT test (she wanted to be one of the first to take the test), and was told that it was nearly impossible since she was only in grade 9. After her math assessment with Vineet, we discussed and decided to give it a go. Vineet and the staff at Mathnasium prepared Marthena in all of grade 9 and 10 math, gr 10 geometry, and algebra 1 and 2. A monumental and ambitious task!!!
After nearly six months of preparation and hard work, Marthena went to Miami and took the test. I am delighted to report that Marthena surpassed the required scores on all 3 subjects; reading, writing, and scored PERFECT in math!!!!! (She studied reading and writing on her own).
I am writing this sitting in the departure lounge at Toronto Pearson Airport with my daughter waiting to board our flight to Miami. We are on our way to attend an intake session with SAS. After months of waiting, Marthena is accepted to attend SAS in the fall of 2015-2016. She is one step closer in achieving her goal of attending medical school.
I want to express my sincere thank you to Vineet and the staff at Mathnasium for their dedication, hard work, and resilience in helping Marthena with her quest in acquiring high academic excellence in math.
P.S: My daughter is currently in grade 10 and is preparing for her SAT test with who else other than the great Mathnasium in Mississauga, ON, Canada.
Sincerely,
Martha Nguyen"
---
Maria L
Way to Go Karoline!!!!!!! We are proud of you......Vineet
From Maria L, Sent April 21, 2015
"Hi Vineet, Thank you! What a great surprise! Karoline is working very hard. I can't believe her confidence level now! She even questions the teacher when she feels that she didn't get proper credit for something. She never would have done that before! I think she is actually enjoying the math! She is always very excited to bring her tests and quizzes for you to see. She is very proud of herself! We are very thankful to you and your tutors. She has shown amazing growth since she started at Mathnasium! Thank you so much, Maria"
ALERT
Currently offering both @Home and In-Centre - Contact us Today!