Our Results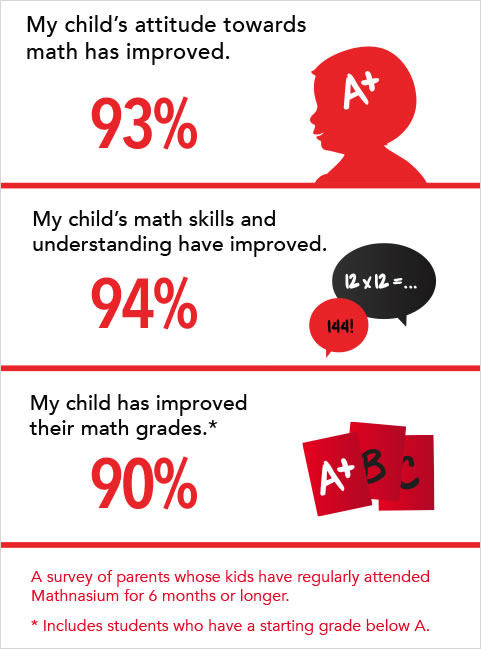 At Mathnasium, we help kids understand math by teaching the way that makes sense to them. Children who consistently attend sessions at our learning centres enjoy a transformative learning experience and make huge strides in the classroom.
Attitude: When math makes sense, kids develop a more positive attitude toward math.

Understanding: Mathnasium teaches for understanding, giving students the ability to succeed in any math environment. As Larry Martinek, Mathnasium's Chief Instructional Officer notes, "It's pretty easy to forget things you memorize and near impossible to forget things you understand."

School Progress: When kids learn math in a way that they truly understand, they achieve greater success in the classroom.
---
See what people say about Mathnasium
Testimonials for Our Bayview Sheppard Centre
"Improving math skills helped my children boost their confidence in other subjects." - SS
"Very responsive, knowledgeable staff that have great people skills and have an ability to teach concepts in a variety of ways." - DG
"Oliver has been attending Mathnasium of Bayview Sheppard for the last year-and-a-half and his confidence in math and overall in school has dramatically improved." - TP
"Lauren got her report card last week. Best math mark ever!" - VA
"They work very hard to teach students." - JP
"I am very grateful for all the help the tutors have given Cabot. It has made a big difference in his marks (low 70's to high 80's) and his confidence. Cabot's teachers at school have commented on how strong he is in math now and he even helps his classmates." - GW
Mathnasium can make a difference for your family. Whether your child is seeking enrichment opportunities or needs to catch up after falling behind, we are here to help.
Call us today to book your free trial session or assessment.
ALERT
Mathnasium@home School Year Operating Hours: Monday to Thursday: 4-8 pm, Saturday: 10 am - 2 pm